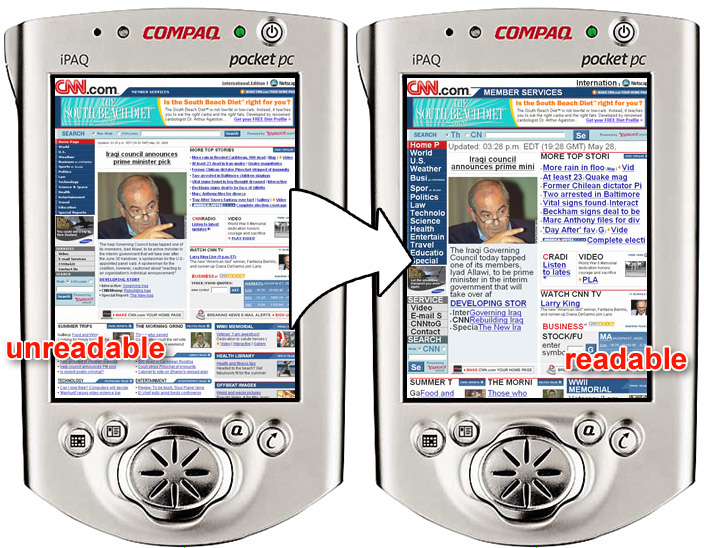 (left) Traditional thumbnail views render text in this news page unreadable
(right) The same page as a summary thumbnail contains enough readable text to allow users to identify the area containing the sought content. The user may then zoom in on the abstract or click the link for the complete story.
In order to display web pages originally designed for desktop-sized monitors, some small-screen web browsers provide single-column or thumbnail views. Both have limitations. Single-column views affect page layouts and require users to scroll significantly more. Thumbnail views tend to reduce contained text beyond readability, so differentiating similar looking areas requires users to zoom. Summary Thumbnails are thumbnail views enhanced with readable text fragments. Summary Thumbnails help users identify viewed material and distinguish between similar looking areas. In our user study, participants located content in web pages 41% faster and at a 71% lower error rate when using the Summary Thumbnail interface than when using the Single-Column interface, and zoomed 59% less than when using the Thumbnail interface. Nine of the eleven participants preferred Summary Thumbnails over both the Thumbnail and Single-Column interfaces.
Lam, H. and Baudisch, P.
Summary Thumbnails: Readable Overviews for Small Screen Web Browsers.
In Proceedings of CHI 2005, Portland, OR, Apr 2005, pp. 681-690.
PDF (2.1M) | PPT (9.0M) | MOV (28M) | WMV (30M) | citations
Related to collapse-to-zoom. More publications
In collaboration with summer 2004 intern Heidi Lam.